Paragliding in Glenwood Springs – the Adventure of a Lifetime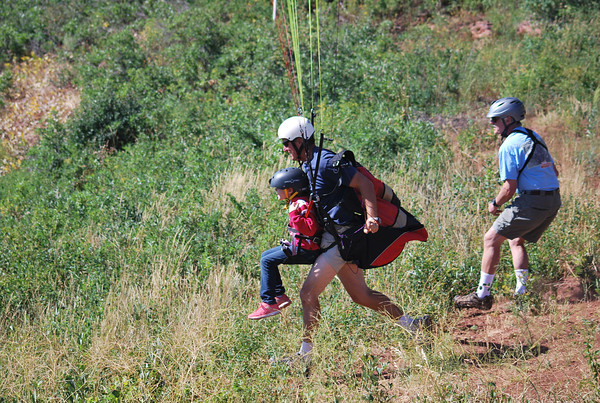 "It's never too early to check something off of your bucket list, " said owner of Glenwood Adventure Company Ken Murphy as he sent his two young daughters (just 9 and 11) sailing off the top of a mountain over Glenwood Springs. Naturally, adventure is in these girls' blood. When they landed the first thing out of their mouths was "It was awesome! When can we do it again!?"
Now that, my friends, is how to make a life rich with memories.
If you have ever dreamed of flying, or gazed up at the birds soaring above longing to join them, this is your chance to live that experience by paragliding in Glenwood Springs! Our favorite time of day to fly is early in the morning. The air is cool and calm and your flight will be almost transcendental as you gaze over the beautiful Roaring Fork Valley. You're able to see rivers wind through the mountains, green pastures dot the valley, an unadulterated view of Mt. Sopris and Glenwood Springs looks like a toy village underfoot.
Our tandem paragliding flights are perfect for a large spectrum of ages and abilities. Paragliding is not just for the thrill-seeking adrenalin junkie. If you can jog a few steps, you can fly with us. Our adventure starts by driving up to a peak overlooking Glenwood Springs where we suit up and prepare for the flight. Our certified instructors explain the process and go over safety measures with each guest. Once both instructor and adventurer are strapped in and ready, they job toward the edge of the mountain and … fly!! The flight itself will last for about 10 to 22 minutes and the whole experience takes about an hour.
What are you waiting for? Time to tick this off YOUR bucket list.