Job Description, Qualifications, and Training
Our river guides have the largest impact on our guests' experience. While being a river guide is both fun and rewarding, it is also both physically and mentally demanding.
A two-week river guides training course is required.  The river guide course is a state certification which is yours to keep and take with you in the future. Colorado has very high standards and the certification can easily be transferred to most other states. If you are already a trained river guide in Colorado, this course would not be necessary, but you would still need to "Check Out" on each section of the river.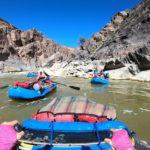 If you are a guide from another state, there is a form that can be used to transfer your training to Colorado. Please let us know if this might pertain to you.
Once training is complete, you will also be required to have a PFD (lifejacket), Helmet, Whistle, and River Knife. By this time you will have access to pro-deals, which will allow you to purchase these items at a significant discount.
Requirements of a guide include but are not limited to:
Safety awareness
Capacity to work outdoors in all types of weather
Outgoing personality, friendly, and able to assist all types of guests
Ability to work well under pressure and think quickly in emergencies
Must have First Aid and CPR (complimentary training included with hire)