Winter Activities in Glenwood Springs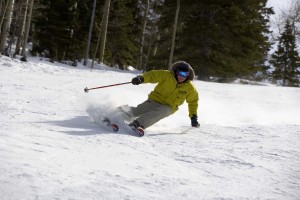 While not particularly known as a ski town, Glenwood Springs has been voted one of the top 7 ski towns in America by Best of the Road. You may remember from out last post that the site as also called Glenwood Springs one of the best "fun" small towns in America – and that is an award we wont dispute!
While the ski areas of Summit County are good, they also tend to be more crowded due to their proximity to the front range. Vail is cool, but arguably one-dimensional. But keep driving down I-70 and you come to Glenwood Springs. Once you think about it, its easy to see why Glenwood Springs is a great ski town. Sunlight Mountain is right here. Its a great family mountain that is affordable, doesn't get super crowded, and has an excellent ski school for the youngins. But beyond that, you are only 45 minutes from the four-mountain mecca of Aspen and Snowmass and an hour from Vail and Beaver Creek.
Beyond having 7 ski areas within an hour drive, Glenwood provides lots of other benefits and amenities. There is no better apres-ski activity than a soothing tired muscles in the Glenwood Hot Springs Pool. If you feel like taking a day off from skiing, you can book a snowmobile tour or a snowcat tour from your friends here at Glenwood Adventure. You can also take advantage of winter specials at Glenwood Caverns, where cave tours and tram rides are often discounted.
Glenwood Springs also has a great deal of affordable lodging options. Sure, staying slopeside at a big resort can be fun, but saving some money by staying in town has its own rewards. Walk to tons of great restaurants, go shopping in the boutique stores in downtown Glenwood Springs, or take in a dinner and laugh out loud comedy show at the Glenwood Vaudeville Revue.
What do you think – does Glenwood Springs qualify as one of the 7 best ski towns in America, as Best of the Road says? We sure think so, but let us know in the comments below!