Have You Tried a Ducky Yet?
When the water starts to get a little lower later in the summer, we have a lot of guests ask us how they can add a little bit more excitement to their rafting trip. While you're still going to get some awesome whitewater in the bigger boats, an inflatable kayak, or ducky, is a great way to enjoy the flat water on the Colorado River.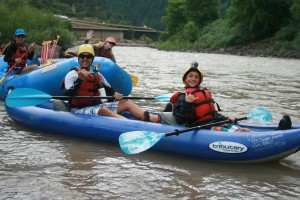 Unlike a traditional hard-top kayak, you don't need to know how to "roll" in a ducky. If the ducky tips over, you're going for a little dip. Though, they're surprisingly easy to use, even if you've never been on one. It opens up the world of kayaking even to the most basic adventurers. Guests can rent a single ducky for themselves, or a double if they want to share with a partner. We have some groups on rafting trips that will just rent one or two duckies for the whole group – and take turns after everyone has rafted through the larger rapids. It's a great way to keep the excitement up for the adrenaline junkies or rowdy teens in your group.
Still are unsure about these wildly fun inflatable river toys? Give us a call – we're happy to answer any questions you may have or tell you what might be a good fit for your group!